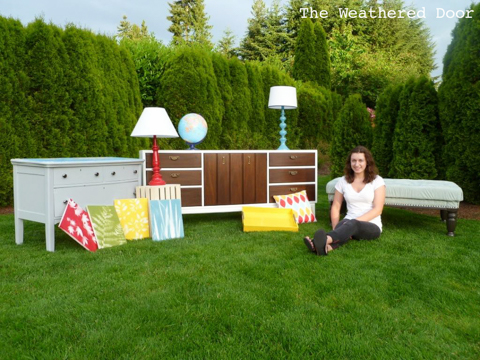 Hi, I'm Reeves, twenty-something interior design and furniture lover fixing up furniture whenever I have the chance! I started this blog for a school project my senior year of high school to update pictures and steps of pieces I have done. My interest in upcycling and repurposing began a couple years prior. The first project I did myself was turning an old, weathered door into my headboard (note the name). Over the past few years I've focused on making over furniture, which I sell locally, and sharing my process, mistakes, and triumphs along the way.
My goal is to find quality, unique pieces and put my own twist on them. I want this blog to be a place where people can find information and inspiration. Information on resources, DIY projects, how to paint and refinish pieces, as well as tutorials and videos, and inspiration for fresh ways to customize your pieces and home. I share Before & After posts on each piece I complete along with resources related to tools, blogging, and photography. Whether you are a regular reader or just stopping by, I'm happy you're here.
If you have any questions, email me and I would be happy to answer them!
theweathereddoor@gmail.com
Policies:
You can review our disclosure and privacy policies here
Thanks for stopping by!