Hi friends! Welcome to the new site 🙂 I'm happy to be back with a new furniture makeover on a style of furniture that I have been wanting to paint for a while now. This bamboo nightstand is part of the Allegro collection from Thomasville. It's very similar to the Henry Link Bali Hai pieces you see everywhere.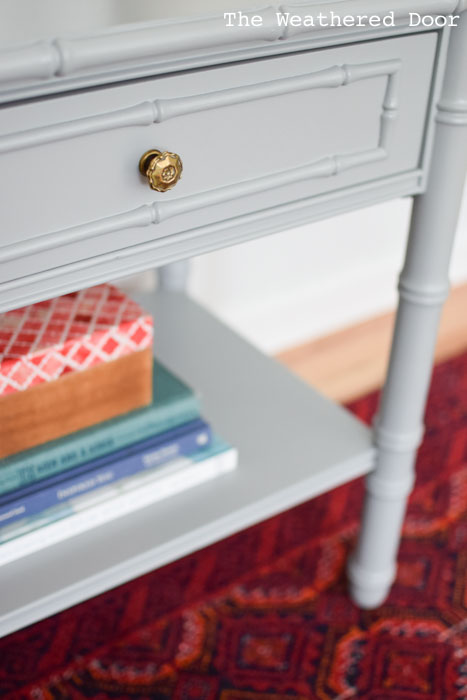 I first purchased a low 7 drawer dresser from the line off of Craigslist and the only problem was it was missing one pull on a top drawer. That's never a good thing because trying to find a replacement for vintage hardware is a nightmare! Luckily, I found this nightstand a week later on a local buy-sell-trade Facebook group. They come in this great (<– sarcasm) yellow and white finish with laminate on top.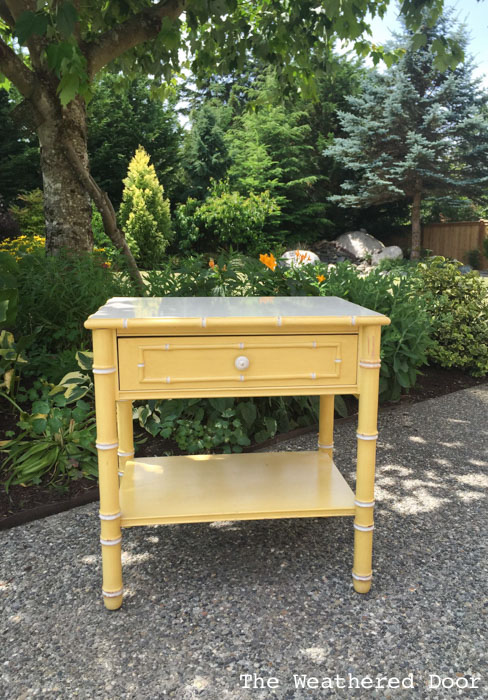 I enjoy the various seasons we experience here in the Seattle area because they play a big role in the colors and designs that inspire my pieces. As we are transitioning into our cozy fall weather I'm being drawn to greys, a lot! It's what got me started working on the nightstand.
I made sure to do all the necessary prep work that comes with painting furniture. I first began by sanding the piece to smooth out the finish, especially areas where the paint was missing. I also used bondo glazing putty to fill in any dings. Once dry I sanded it out with 150 grit sandpaper. For the laminate top I did the same prep work. I have a whole post sharing the steps of painting over laminate and explaining why I like furniture with laminate tops (and why you should like them too!). Be sure to check it out if you are one who passes by a piece that has laminate.
Next was priming. To make things easy for myself I used spray primer in a can. It's less cost-effective than buying a quart or gallon of primer, but it saves so much time and usually gives me a smoother finish to apply paint to. I used my favorite Zinsser Cover Stain primer which blocks out stains and acts as a bond coat. Once it dried for a couple of hours I smoothed out the finish with a well-used 220 grit sanding sponge and some #000 synthetic steel wool. A damp cloth removed all the dust particles and was ready for painting. It looked so much better with just some flat white primer!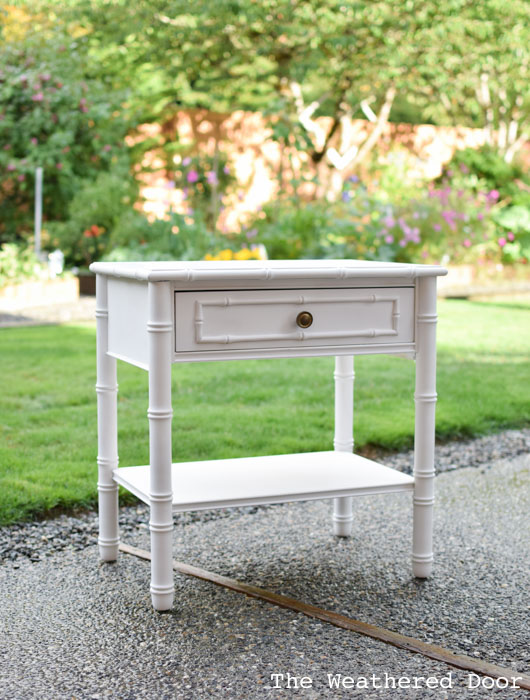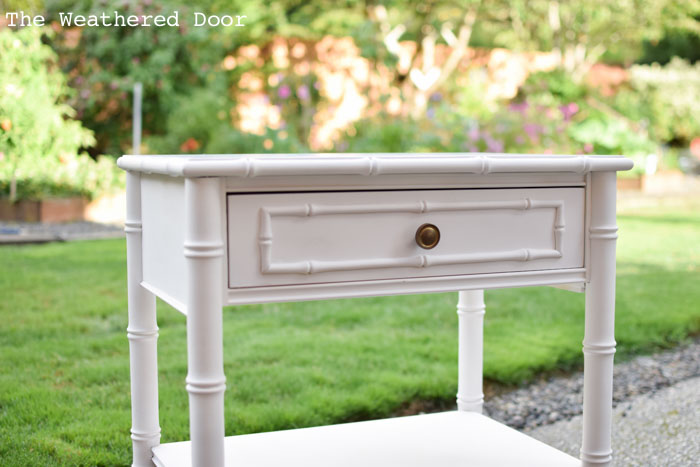 The paint color I chose is Stone Mason by Sherwin Williams, which is a medium grey color. It looks lighter in these photos, it's just a bit darker in person. I chose to brush on the first coat of paint since I knew I planned to spray on the finish with my HVLP gun. (If you want info on my spray gun, compressor, or spray booth set up you can read about it here). I just wanted to be sure paint got into all of the bamboo details in the piece. After waiting the recommended time between coats I them sprayed on the next coat of grey. After letting it dry overnight I smoothed out the finish with #000 synthetic steel wool and applied 2 coats of a water based topcoat. I used General Finishes high performance topcoat in the satin finish but I've used other brands as well. Since the piece isn't in perfect condition and has seen wear over the years I didn't want to use a gloss poly and have any little flaws stand out. The satin finish gives it just enough shine without too much reflection. It's a good balance. I did change out the hardware for a pretty brass knob I had in my stash since I am keeping the original knob for the bamboo dresser.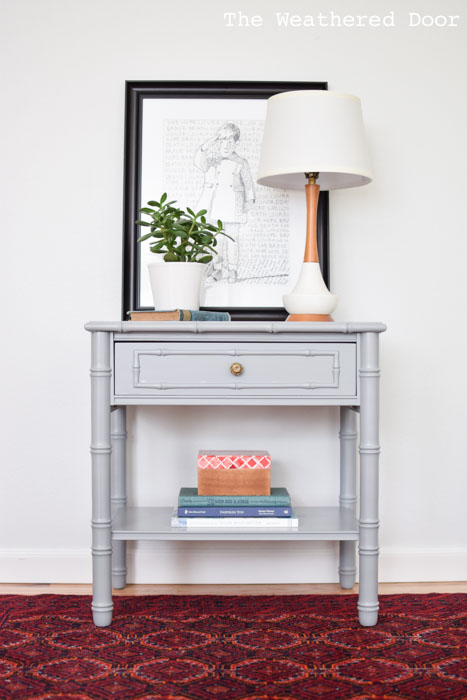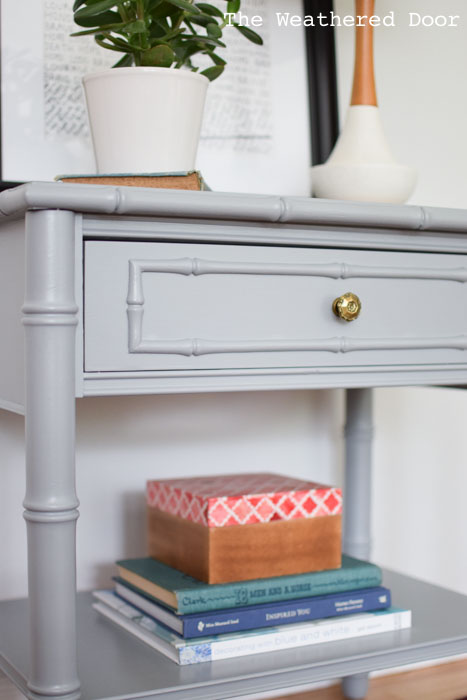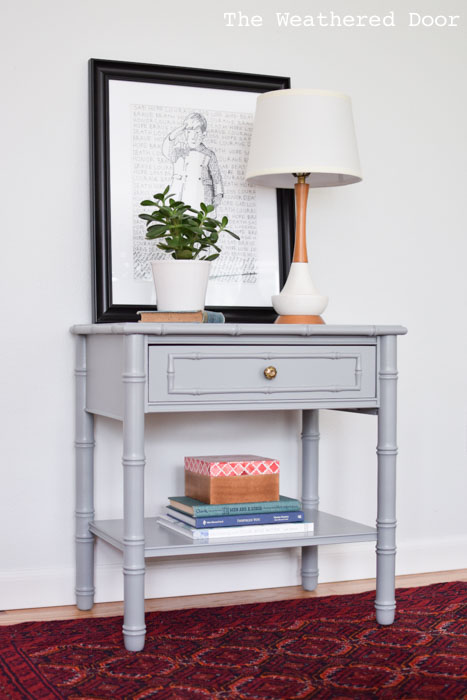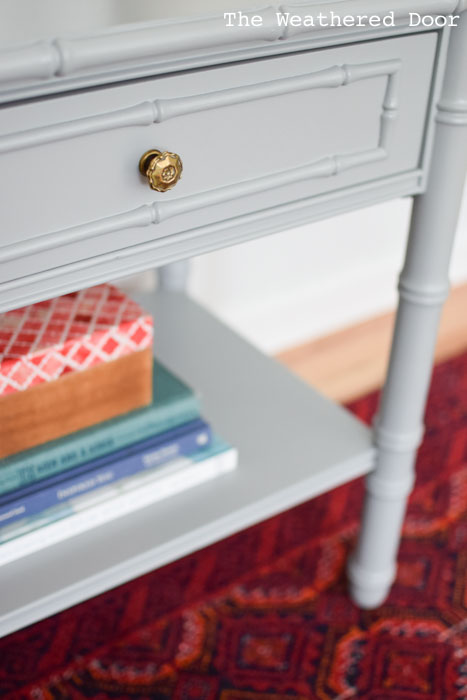 Stay connected and see what else I'm work on: