I shared the makeover of a Mid Century Modern Credenza last week where I used General Finishes Gel Stain over the existing finish on the piece and wanted to share how I did that.
I think one misconception is that you have to strip and sand a piece down to bare wood before you can re-stain it. Sometimes that is necessary, but if you have a piece without much of a topcoat (sealer, poly, etc) and the finish is in good shape, you can go over it with a gel stain. Here's what I did to darken the color and freshen up the finish on a mid century dresser. (steps and details below the picture).
If you have a piece that needs to be stripped because of a laquered topcoat or worn and chipped finish I have a video tutorial of how to strip furniture here. Stripping stained pieces really isn't too bad.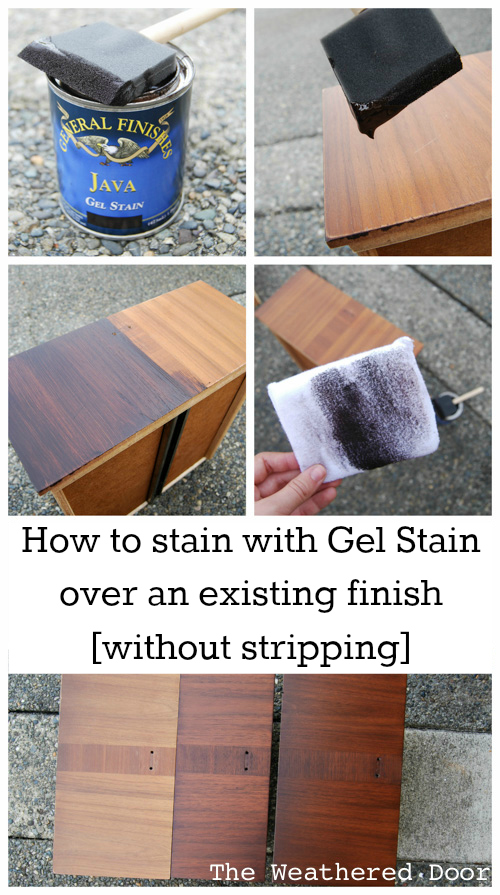 CLICK HERE for a video tutorial on How to apply Gel Stain.
1. I first began by wiping the whole piece down with a cleaner to remove any dirt and grime build up from over the years.
2. Next, I wet sanded everything using 320 grit sandpaper. I combined this step with cleaning the piece, but water is just fine for wet sanding (a spray bottle is the best). I just wet the area as well as the sandpaper, and lightly sanded. This helped to remove any of the topcoat that was left on the surface. Be sure to use a sanding block/sponge or use sandpaper wrapped around a sanding block so you applying even pressure. You don't want to sand off any of the previous finish, otherwise you will be left with a blotchy look once you stain. After wet sanding, wipe off any of the water or cleaner and let the area dry.
3. After the drawers and frame of the dresser had been wet sanded, I went back over the whole piece with 400 grit sandpaper wrapped around a sanding block. This was just regular sanding (not wet sanding) that prepared the wood for stain. I then used dry and damp paper towels to remove any and all particles from the surface.
4. I
waited 30 minutes
to make sure any of the moisture in the piece was dry before I began staining. As I mentioned before I used *
General Finishes Gel Stain
in "Java". Do be sure to wear gloves because the stain will get all over your hands. I
used a foam brush to apply a thick layer of the stain
, then used
staining pads to wipe it off
. It took about 4 passes of wiping off the stain with a clean area on the staining pad to get all of the excess stain removed. Look carefully to be sure there are not streaks or marks left. Right away the wood color was so much better!
5. Once the whole piece was stained, I let it cure for 48 hours (18-24 hours would have been fine). The can recommends 6-8 hours, but in my experience that is not always enough time and applying a topcoat too early before the stain has cured can take off the color in certain places and ruin the finish. So be patient, and wait it out.
6. Once the stain is dry,
apply the topcoat
of your choice. Water based topcoats and polys are great options, easy to apply, and clean up with soap and water, but an oil based poly would also work. I used *
General Finishes High Performance Topcoat
in the Satin finish (it's water based). Really, that's all there is to it!
If you want to check out the finished piece,
click here
.