Last fall I wrote a post sharing my method for staining with gel stain over an existing finish. I wanted to create a visual to help show people so I made a gel stain video tutorial. Please note that this method is definitely not for every piece of furniture (some need to be stripped). I only do it on pieces that are is pretty good condition that need a bit of freshening up and that I want a darker wood look for. I talk more about the pieces I use this method on here.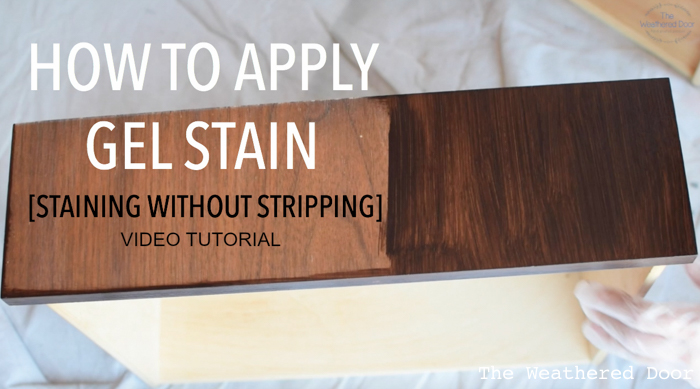 Supplies
paper towels/rags
staining pads
foam brushes* (or extra pieces of foam to apply stain)
Synthetic brush* to apply poly (these are my favorite!)
Here's a quick run-down and recap of the steps shared
here
and in the video of how to use gel stain over an existing finish. Watch the video or read the original post for more detailed information.
How to Apply Gel Stain
Clean the areas you are going to stain.
Next, wet sand with a fine grit sanding sponge. Let dry.
Lightly sand with 400 grit sandpaper (not wet sanding). Wipe clean.
Apply gel stain with a foam brush in one even coat. Use staining pads to wipe off excess.
Once everything is stained, let it dry. It needs 24-48 hours. Be patient. 🙂
Once dry, apply the topcoat with a synthetic brush.
I've used this method on a number of pieces like this modern credenza with glossy white top, this geometric dresser, my favorite high gloss mid century dresser, and the most recent furniture makeover. It's a really great way to refresh a piece while keeping its vintage integrity intact. The doesn't lose its character. Here's another look at how this the dresser from the video turned out.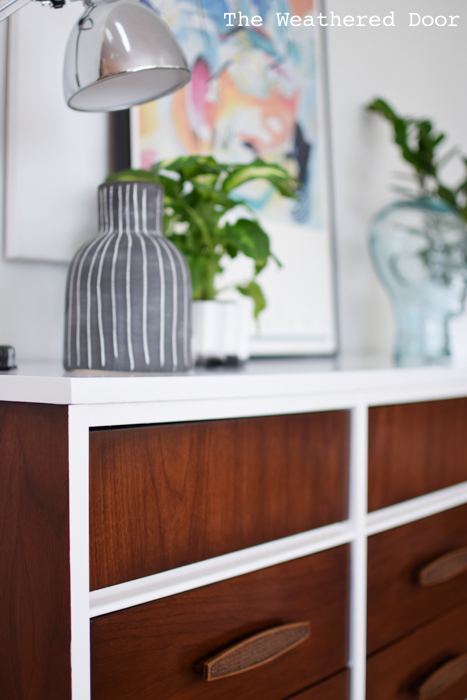 You can find more video tutorials here, or visit and subscribe to my Youtube channel. Follow along on social media to see updates and what else I'm working on:
Instagram | Facebook | Youtube | Pinterest | Twitter
If you use this method to refresh a piece, let me know! Leave a comment or shoot me am email, and I love to see photos of what you create so share them with me on social media.
Until next time…
Reeves