This little mid century side table was picked for free from a leftover pile at a garage sale. It's not a high quality piece which I found out when I really got up close and started working on it. But, its main purpose was to assist me in some videos I wanted to make. So, it did its job 🙂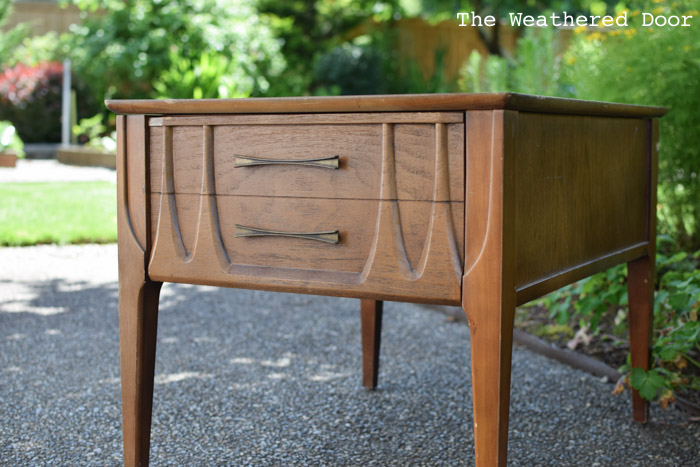 Nothing really fancy went on here, although that drawer design is cool. It has a Broyhill Brasilia or Kent Coffey Perspecta type look. Plus, that hardware is the nicest thing about the piece. It's just a sweet mid century side table that was dated (especially with that faux wood grain laminate and plastic drawer front) and needed some paint. Badly.
Prep
I did my normal sanding prep. If you want to see how I paint over laminate you can read that post and watch the video here. I did some sanding, filling with my favorite Bondo glazing putty, and some more sanding to smooth everything out. I wiped everything clean and then primed.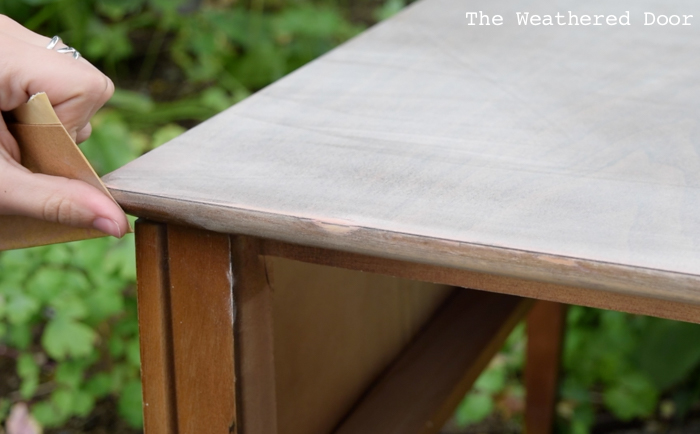 I stuck with my trusty Zinsser Cover Stain primer. I sprayed it on and then used 220 grit sandpaper to sand it smooth once dry. This video shows how to paint over laminate and plastic for a durable, long-lasting finish.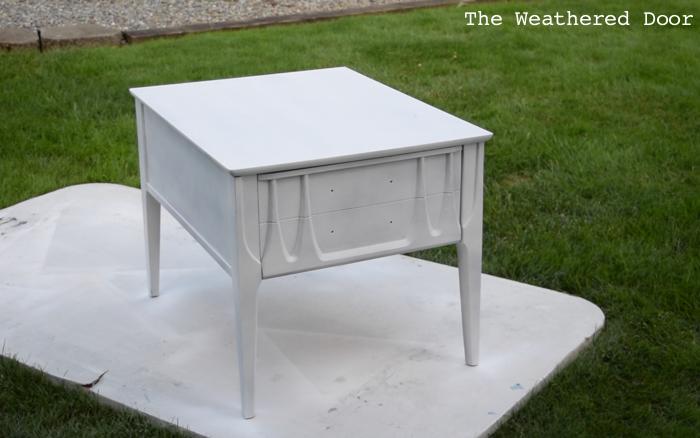 Paint
I've been experimenting with different types of paint recently but I went with General Finishes acrylic milk paint for this project. I love this paint. There are very limited colors, but I own pretty much every one so I just started mixing them together until I came up with an interesting color. I wanted something different than I had done, so a teal green was my choice. It did turn out differently than I expected once it was on the piece and sealed, but I just went with it. I used my husky HVLP gun to spray on 2 coast of paint. I then sealed the paint with General Finishes high performance topcoat in satin for a light sheen.

The hardware cleaned up nicely with some Bar Keeper's friend. I have a video tutorial for polishing brass here. I left some of the patina and only polished the outer parts of the brass for some contrast. Super easy and took me all of 30 seconds 🙂