This post is a follow up to a post/review I did last year on Benjamin Moore Advance paint. You can read the first one here. I've been receiving emails almost daily about my opinion of this paint now that I've used it a few times and lived with the paint on pieces. If you want to know details about this paint like cost, ease of use, plus pros and cons please check out that first post.
My initial thoughts can be found in the original review post, but here is my current opinion about using Advance on furniture. Let me be very clear in saying these are my opinions and my experiences. Other people may have opinions and experiences that differ from my own and that's great. I welcome those. There are also others who have found ways to successfully use this paint without the same problems I have encountered. I also want to say I love Benjamin Moore and am still a customer who uses their products.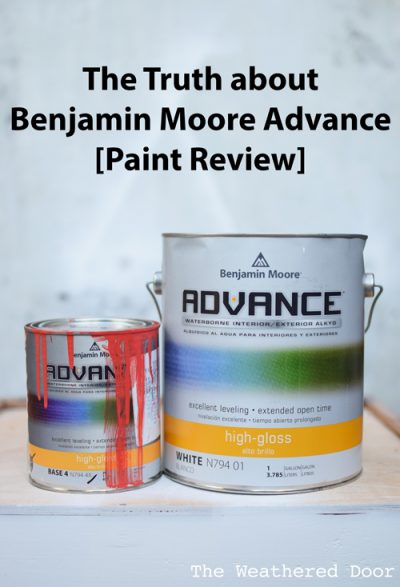 On my quest for finding the best paint I tried Benjamin Moore's Advance in April 2015 after reading good things about the paint online and at the recommendation of BM employees. I took the plunge and bought one gallon of off-the-shelf white in high gloss. My first experience was pretty good and so a few months later I purchased a difference color for another furniture project.
After I initially posted about using the paint on this dresser (my first project with Advance) I received numerous messages from people who had also used Advance and had bad stories, although admittedly some good experiences as well, like me. I listened but hoped those things were not true for everyone. After painting the Salsa buffet, I was no longer a big fan of Advance.
I had problems with crazy orange peel (even with thinning), coverage, curing, and durability. Now, I had hardly any of those problems when using the white color, but the saturated color of Salsa was a whole entire different story.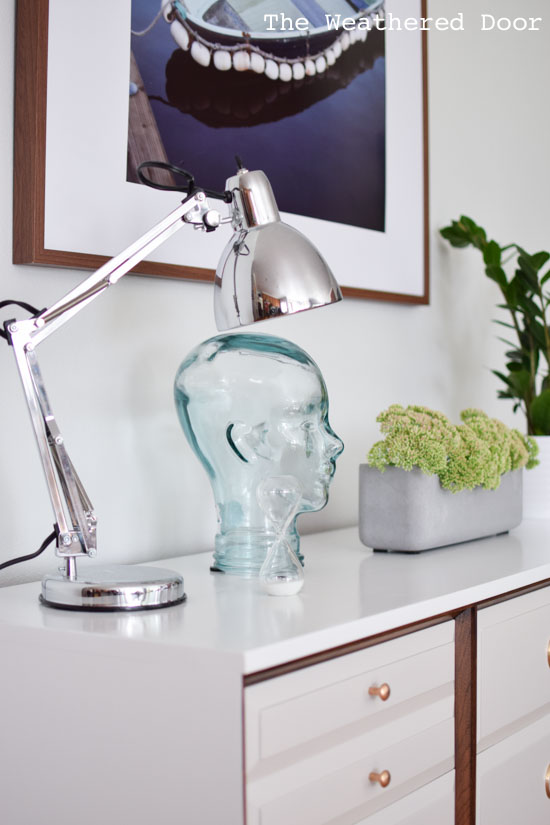 The Problems
The 2 biggest things were 1. durability. The paint came off too easily. Little dings kept happening on edges and corners without the piece even being used very much. And 2. curing. I guess that kind of plays into durability, but that paint does not cure (well). So much so that I never even sold the piece that I used the paint on. A year later it is still kind of tacky and sitting in the garage. Very unfortunate because that's a killer piece that I feel has gone to waste thanks to a bad paint choice. It's going to a family member who is aware and okay with its imperfections, and maybe one day I'll redo it. This paint is also very prone to drips and sags which are a paint to get out since the paint stay tacky and is difficult to sand.
Some people may not be concerned with the little spots of wear I saw on this piece, but as someone who refinishes and sells pieces I'm not willing to continue using this paint and take chances on the quality of the finish.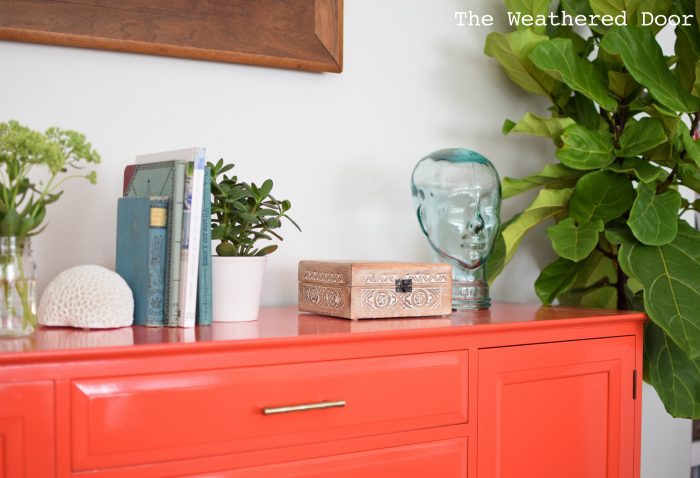 I gave Advance one more try when I painted a 9 drawer mid century credenza last October. The piece turned out well and I did not have the same problems I had with the Salsa piece. It did take a little longer to cure and not be sticky, but it did end up curing. I also painted my mom's fireplace mantle with the high gloss white Advance and never had a problem with it being tacky. Items sit on it for months at a time and when they get picked up they don't stick at all.
So, all that to say I had good and bad experiences. In some cases the paint seemed like it was a great option, and other times it didn't provide the quality I wanted.
Here is a list of things that I think play a role in the curing and durability of Benjamin Moore Advance.
weather/humidity (both when the paint is applied and as it cures)
how thick the paint is applied
sheen (lower sheen may be less tacky than high gloss)
surface it is going over
color? (saturation/pigment concentration)
I will also note that from what I understand, the VOC regulations set by the EPA for certain paints are so low that there aren't enough VOC's for paints to cure well.
The Outcome
Ultimately, I would say this paint is not best for furniture. There are other paints and finishes available that offer superior quality (in my opinion). When it comes to an item, like furniture, that sees more wear, a durable finish is needed. I still highly recommend General Finishes acrylic milk paints and High Performance Topcoats. As I am trying to do away with topcoats I have been trying oil paints. There will be a post about my experience with that later on.
What this paint is good for are surfaces that do not see as much high traffic. Specifically surfaces where things are not set on it. Trim, molding, fireplace surrounds, doors, etc. would be great candidates for this product. It might even work for the frame of a piece of furniture (sides, legs, and drawer dividers) since those areas don't see high use like furniture tops.
I've been asked about using a topcoat with Benjamin Moore Advance. Like I talked about at the beginning of this post, I'm trying to eliminate topcoats in order to save me time (2-3 coats of paint plus 2-3 coats of poly is time consuming!). I think a topcoat might help with my two biggest problems and concerns about this paint – curing and durability. I know people who have used this paint with a topcoat and had great results, but I cannot personally share about it since I have not tried the combination. If you try it or have tried it let everyone know your experience in the comments 🙂
Would I Use it Again?
I wouldn't say I won't use the paint again, because I would use it again. I will just be cautious about where and how I use it. In instances where I want a pure white, oil white can't compete with a water-based white. That's where I would consider using Advance again. For now I am still on the quest to find the best paint for furniture. There will always be pros and cons to each and there is no perfect paint, but I'll keep you in the loop as I experiment with new (to me) products.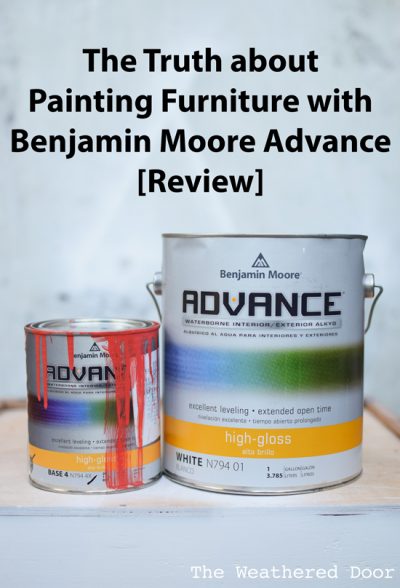 ______________________________________________________________
If anyone has used Benjamin Moore Advance paint, please share your experience in the comments. I know I would love to hear about it and I'm sure others would like to as well. If you have further questions about the paint I did not cover leave them in a comment. I'll do my best to respond to those 🙂
-Reeves