Incase anyone thinks projects just go well of me, I'm here to tell you they don't. 😉
The cold winter weather in the Seattle area makes spraying nearly impossible (in an unheated garage). That means I'm not efficient at all this time of year and when paired that with a full-time job and working on furniture is usually on the back burner. During a few free days I had around Christmas I decided to get back to my roots and hand paint a piece from my inventory.
A little story about this piece. I got it for free when the seller just needed it gone. Originally I only wanted the base cabinet (it's a two piece hutch), but I took both pieces knowing I could give the top cabinet away or do a little winter project with it. This piece is made by Willett, like the high gloss painted buffet I did. This brand makes high quality pieces out of solid wood. Not solid wood with veneer on top, but solid wood.
This is the base of the hutch with 3 slatted doors and magenta felt-lined drawers.
Disclosure: this post contains affiliate links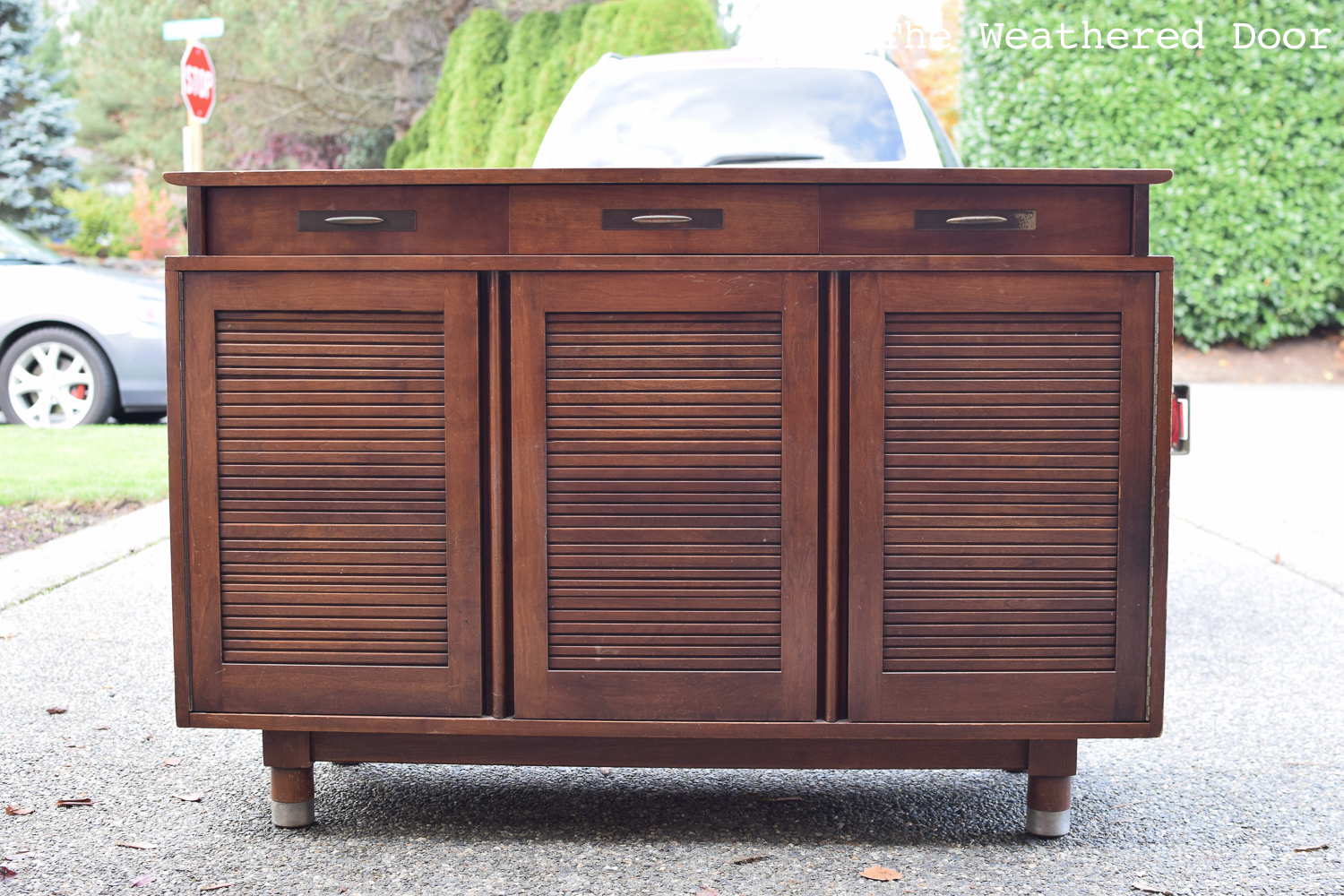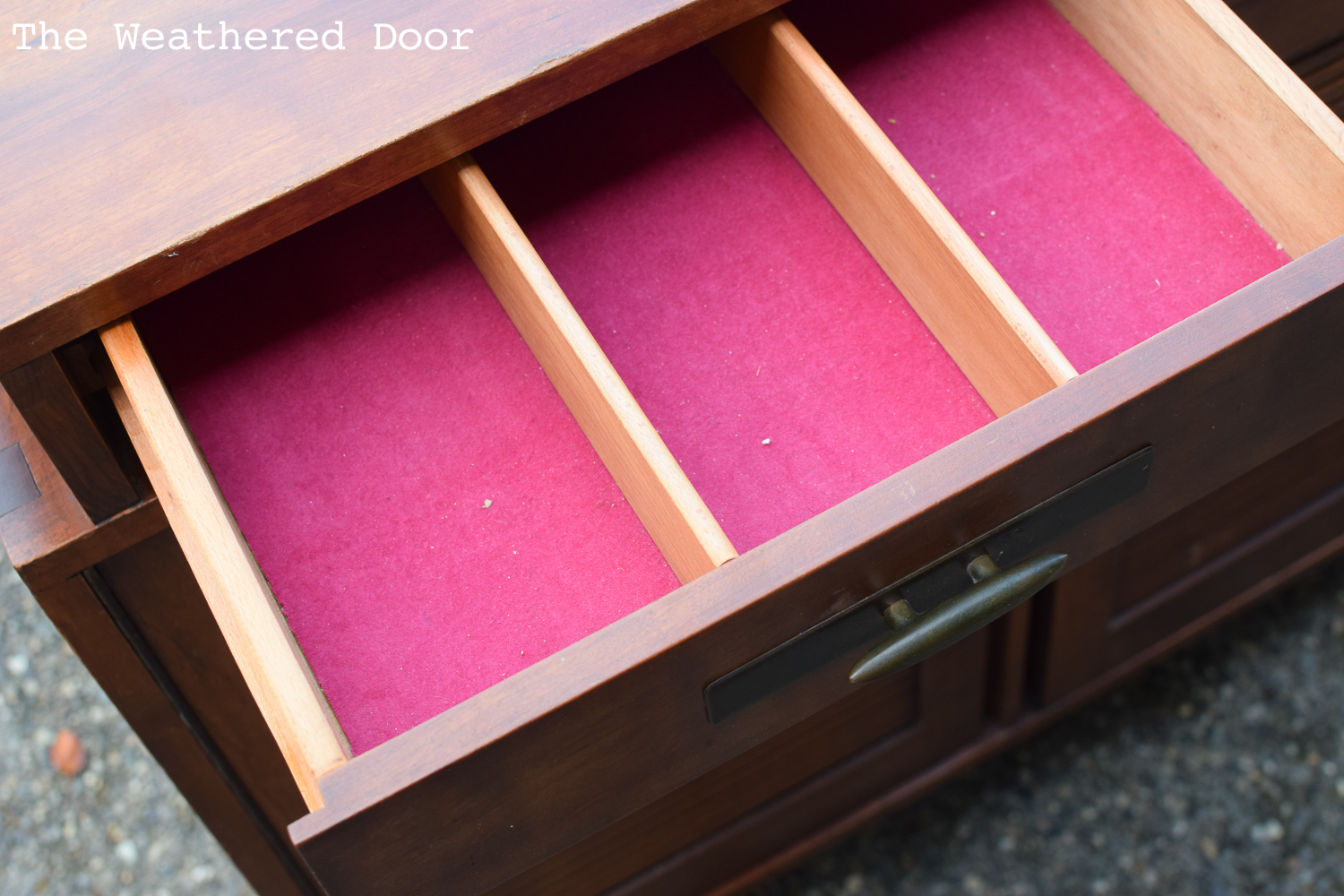 This curved, glass cabinet sat on top of the piece above.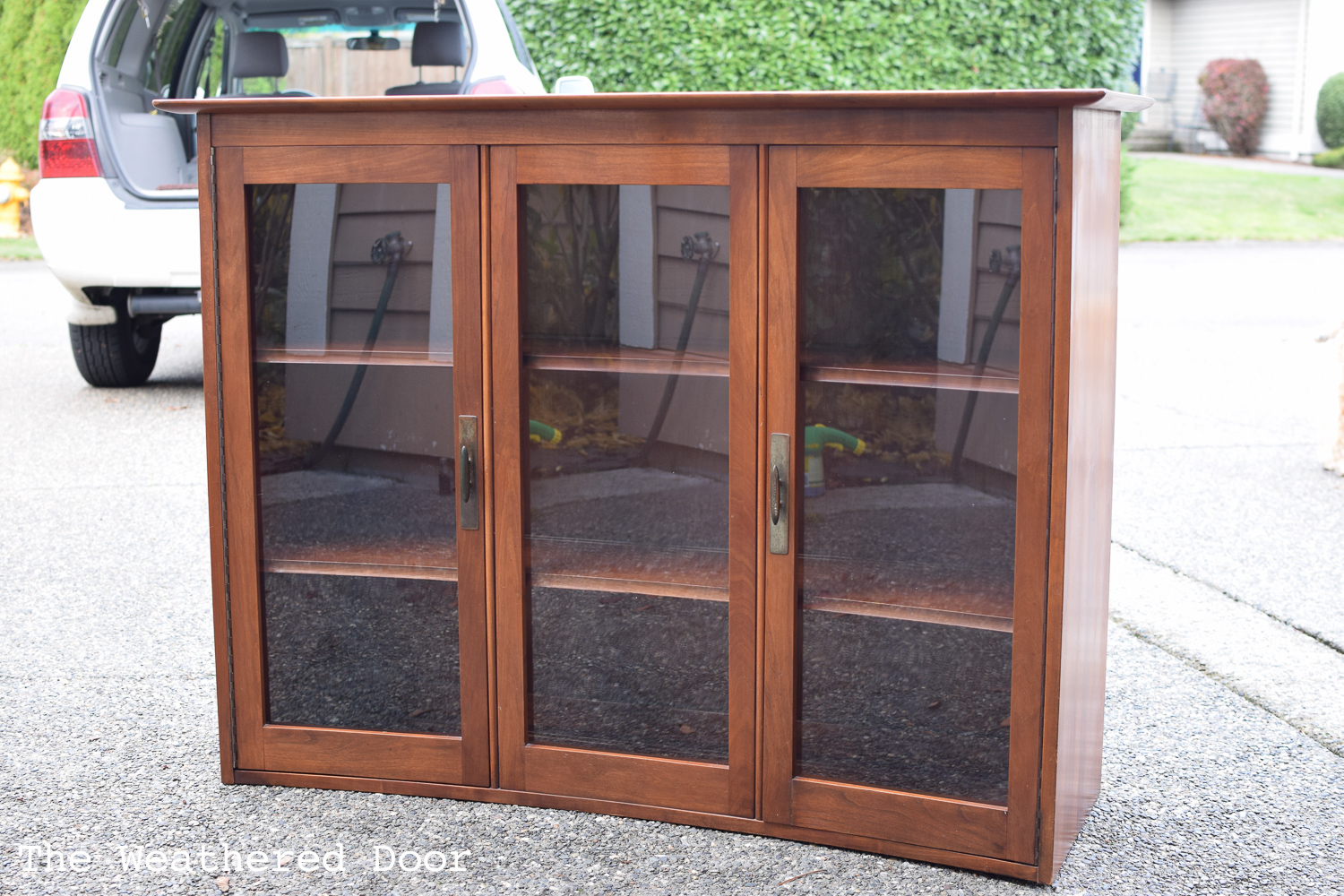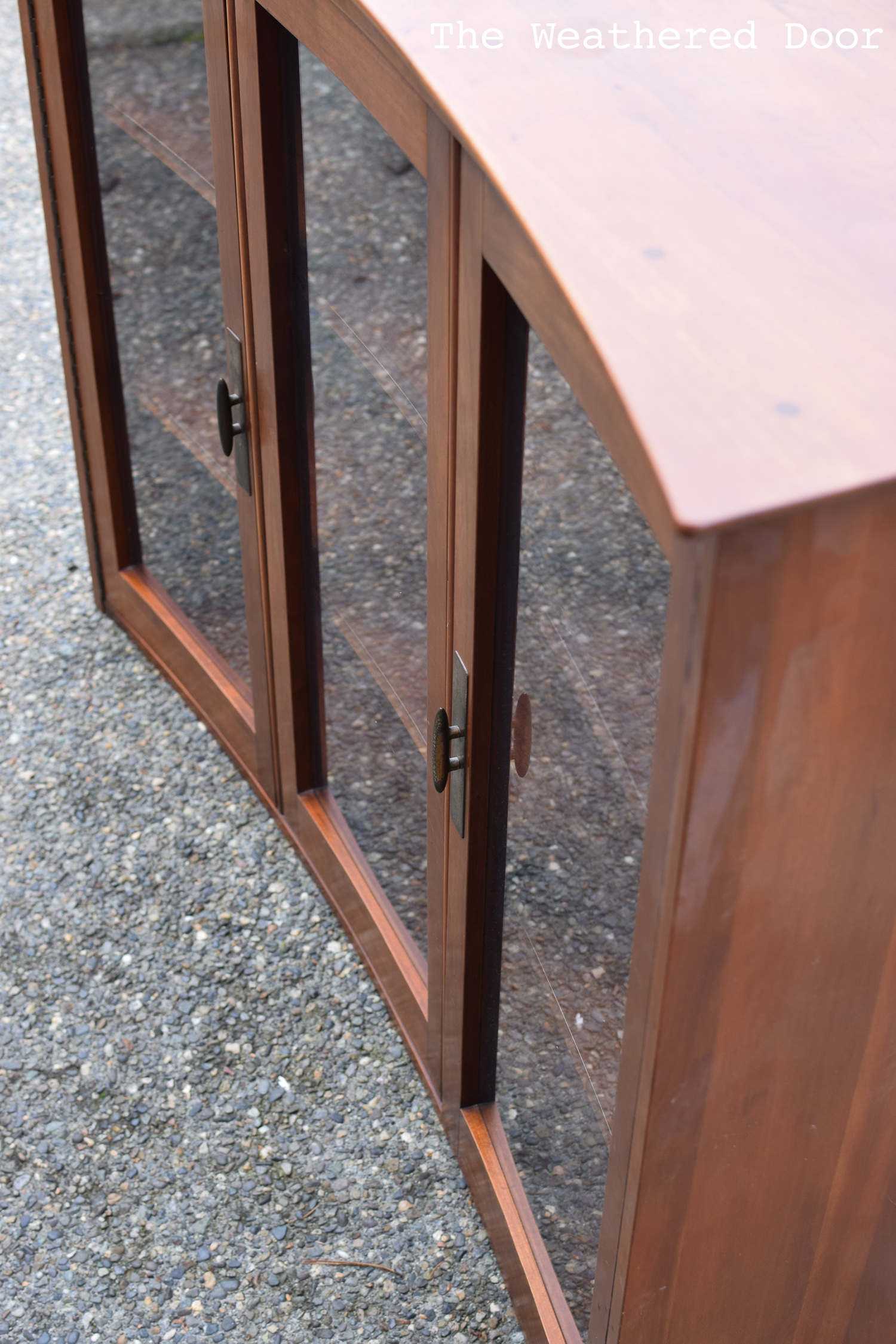 The first thing I wanted to do was add legs. I purchased mine from Lowes and have a post on how to add legs to furniture if you are wondering how it is done. It is an easy way to change the look or function of a piece. Because the legs are a different type of wood and come unfinished painting was the best option. There were also two holes in the top of the cabinet that I doweled and filled with my favorite bondo. There must have been some sort of decorative element on the top of the hutch that was removed at some point in its lifetime.
If you want to read about my method for painting furniture you can read the details here. I normally spray all my finishes (including primer) but since it was around or below freezing for so long I was unable to do so. The problem with not priming (with a stain blocking primer) is that you can get bleed through.
Bleed Through
What causes bleed through are the tannins in wood. They usually discolor the paint or finish with yellow, red/pink or brown hues. It tends to be more common in certain woods, like mahogany, but it can occur in all types of wood. And the kicker is that sometimes it doesn't show through right away. Topcoats (like water-based poly sealers or oil sealers) will often bring out the tannins and make then appear when applied over paint. Even over time (weeks, months, years) bleed through can show up or even get worse. One other note, disturbing the pre-existing finish (topcoat) can result in more extreme bleed through since the barrier of topcoat gets sanded off or partially sanded off during the prep portion of painting furniture.
____________________________________
So… that's what happened here. Since I did not/wasn't able to properly prime, some areas became slightly discolored/yellowed once the topcoat was applied. Not only that but after spraying paint for 2 years it is painful to brush paint. Noting compares to the smooth finish I get using my HVLP spray gun.
For anyone interested, the color on this piece is Behr Elephant Skin and I sealed the cabinet with General Finishes High performance topcoat. I did my standard prep of sanding with 150 grit to prepare the surface for paint. Next time I will for sure prime with something. I take these "no prime" risks every winter and it never ends well.
I left the interior of the cabinet in the gorgeous original wood finish. Personally I like the two-tone look and how the wood warms up the piece. Those glass doors were a pain when it came to trying to get photos and I didn't even want to deal with it. I started adding some random staging, took some test shots to see what the reflection was like and then decided I was just done with this piece.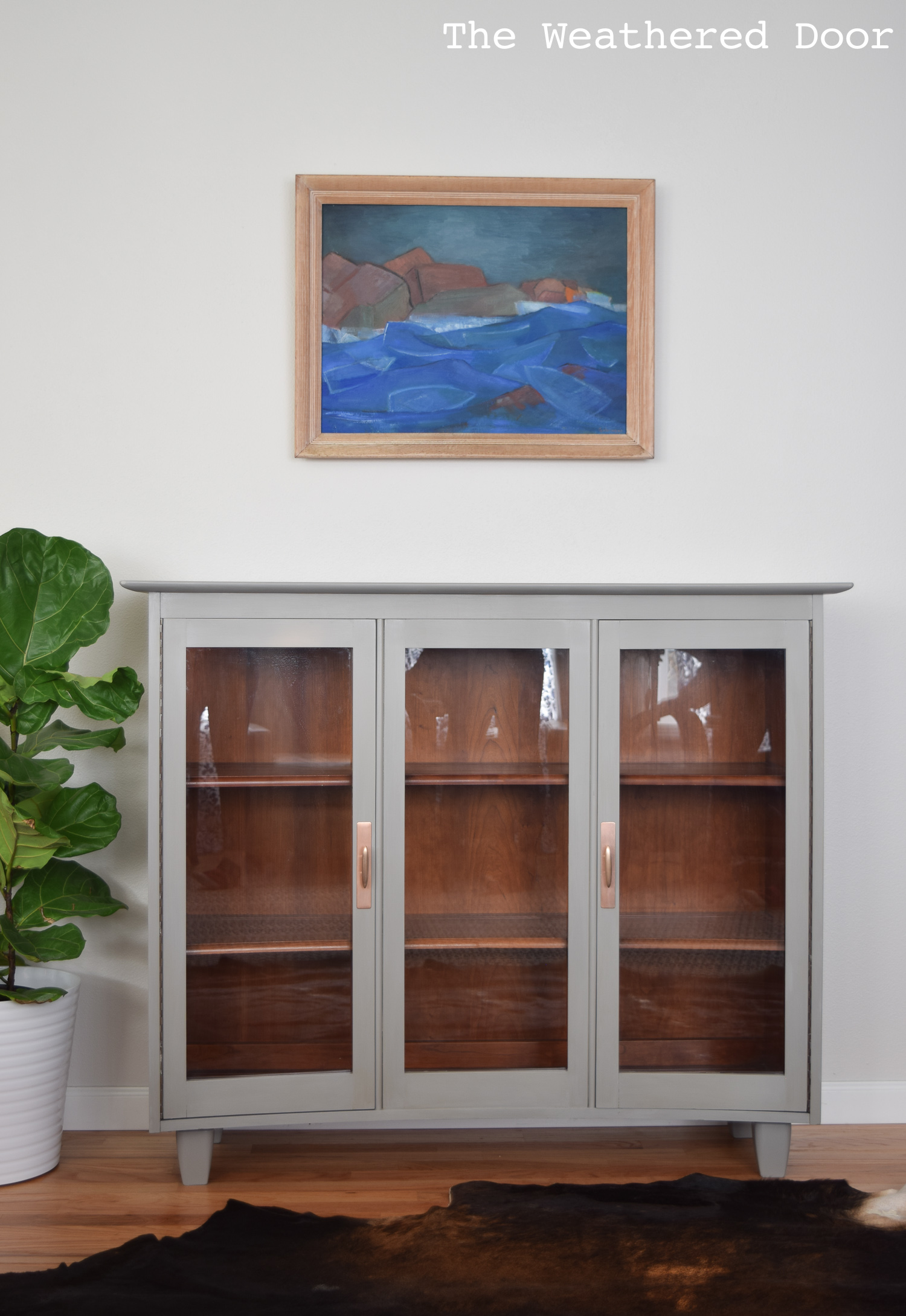 Normally my epic fails don't end up on the blog, but maybe you'll learn something from this. 🙂 And if the weather warms up I may sanded, prime and spray another coat of paint and topcoat on this one.
For cleaning the brass hardware (that admittedly looks a bit copper and rose gold) I followed my how to polish bras tutorial.
Until next time, don't forget to prime
-Reeves